Mark Slessenger interviews Jessica Longe who recently joined The Message Trust. Jessica will be heading up our Enterprise development – this will include researching and developing investment-ready business plans to employ young men and women out of prison. We are thankful to God for bringing her on team!
1. Jess welcome to The Message Trust! Tell us a little about yourself and your family.
Thanks! I am excited to be a part of the team! I grew up in the friendly city of Port Elizabeth in the Eastern Cape with my parents and younger brother. I became a born again Christian during my later Junior School years which played an important role in shaping the choices I made and the mentors I chose along the way. I moved to Cape Town in 2008 in order to study at the University of Cape Town where I had many opportunities to explore my interests in skills development, labour law, organisational psychology and social development. In 2011, my high school sweetheart Greg and I got married and we decided to make Cape Town our home. In 2012, God opened the door to work at the Department of Economic Development and Tourism, Western Cape Government which accelerated my career and personal development. I LOVE the outdoors – hiking, swimming, mountains, sea – and I am definitely a summer person! Although I have learned to take advantage of the Cape Town winters to hibernate on the couch with a good book and a glass of red wine. My creativity comes out in the kitchen where my husband and I enjoy quality time together cooking up a storm – usually shared with friends and family!
2. The four values of The Message Trust are passion, church, innovation and community. Tell us what you're passionate about!
I am passionate about enabling people to reach their full potential. I have a heart for the broken and downtrodden and for those who feel that there is no other way. Without guidance or mentors who can assist them out of the four corners they know, there is little hope that they will lead a life that benefits society.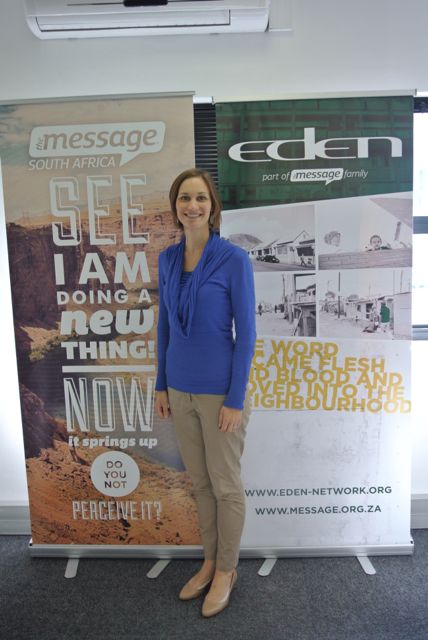 I am passionate about how my faith impacts my everyday life, my relationships, the decisions I make, the people I talk to and the things that I do. I want Christ to be at the centre of what I do and pioneer the way…
Anything along the lines of social development and education/skills development, communities and people! I am passionate about exploring the intricacies and the influencing factors on communities plagued with violence, broken relationships, child-headed households, the lack of quality education and opportunities to explore and develop one's skills and abilities in a safe place. I enjoy learning about different cultures – which South Africa provides abundant opportunities for – and how this relates to our everyday interactions and communication. At this point in my journey I am focused on the transition and journey an individual makes to become employable and what opportunities are available to someone who has been deemed 'unemployable' by society, overlooked by people, but chosen by God.
3. Can you tell us a bit about your church?
Greg and I moved to Jubilee in August 2013 after a period of searching for the Holy Spirit and having a real desire to marry our passion for God's Word, sound teaching and the practical outworking of the Holy Spirit in our church community. We had the pleasure of serving on the pre-marriage counselling course and were afforded the opportunity to be a part of the Redemption pilot group. This played an important role in my life and my walk of faith. I love the cultural diversity at Jubilee and the natural involvement they have with the local community in the suburb surrounding our church building and beyond. Their passion for God's Word, sound teaching, a life of worship and allowing the Holy Spirit the freedom to impact our lives has allowed us to grow in our faith and better serve our community, one another and our families.
4. Before joining us, you have been involved in some interesting local government projects. What have you learned about community from the work you've carried out in some diverse areas?
I was provided an opportunity to work with the community in Saldanha Bay. We developed a partnership for skills development and training with community leaders in order to prepare the community together to apply for job opportunities in the Saldanha Bay Industrial Development Zone.
I have learned the following:
That communities want to be involved, but they require access to the right sources for information and require people who they can trust.
Language and communication is key – we must ensure that the language used to communicate with the community is one that they can identify with and understand. Especially local lingo… get on to their page! Ensure that your vision includes their language.
Treating people on the basis that we are all equals with different roles to play, acknowledging their influence on the community and the role that they play in their communities and allowing them the freedom to exercise these roles and use their skills and gifts. The ability to empower others will assist with the sustainability of the initiatives.
It is important to develop a vision and determine how best to bring the community onboard, to ensure that they also assist in shaping this vision. Flexibility to take into account each community's unique challenges and opportunities.
EXTENSIVE CONSULTATION to ensure that the community owns and supports the vision! Managing expectations is about ensuring that everyone understands their purpose and responsibilities related to the vision. It's important for the visionary to actively listen, understand the community situation and actively take this into consideration in shaping the implementation plan together with the community.
Many community interventions fail once the implementer exits because it is an external party's vision that is enforced onto a community. The community has to own the initiative in order for this to have traction and a sustainable impact.
5. The Message loves developing new innovative ways to reach youth. What was it that specifically attracted you to join The Message team?
When I first heard about the Eden Project and more specifically the Enterprise Centre in the UK, my first reaction was: Yes!!! We need this in South Africa! Our young people are without hope and do not know how to access opportunities.
I was drawn to the fact that The Message has a very clear vision, purpose and value system guiding the initiatives in the community. There are many interventions that intervene on different aspects of an individual's journey, but for sustainable change we require commitment towards the individuals to walk the whole journey with them, supporting them, guiding them and providing them with access to the resources that will assist them to ultimately achieve their personal visions.
I love the fact that we begin this journey where it matters most – the heart. I know that my actions are impacted by the condition of my heart and our Maker and Designer is the only one who can perform the heart surgery that is required to change our hearts back towards him. I support The Message's vision to share the gospel with others to provide them with the opportunity to respond to the Maker's call for heart surgery.
The journey from prison back into the community with the support from a new community formed by the Eden team, means that an individual is not alone in this journey. I am most passionate about enabling these individuals to take a personal development journey with our support in order to allow them to use the gifts and talents to earn an honest wage. This provides them with the opportunity to support themselves, their families, positively contributing back to their communities.
6. If you could say one thing to the youth of South Africa what would you say?
Take responsibility for your actions, and take initiative to look for mentors who will walk with you and support you to be a positive contributor to your community. Jesus is the ultimate Redeemer and the only way to escape the four corners of life.