Meet the newest member of The Message Team Ruan Toua.
Ruan has been employed as our Gangstar Enterprises manager and will oversee all our Gangstar Apprentices and Employees at The Message.
We are excited to welcome him onto the team!
1. Ruan welcome to The Message Trust! Tell us a little about yourself and your family.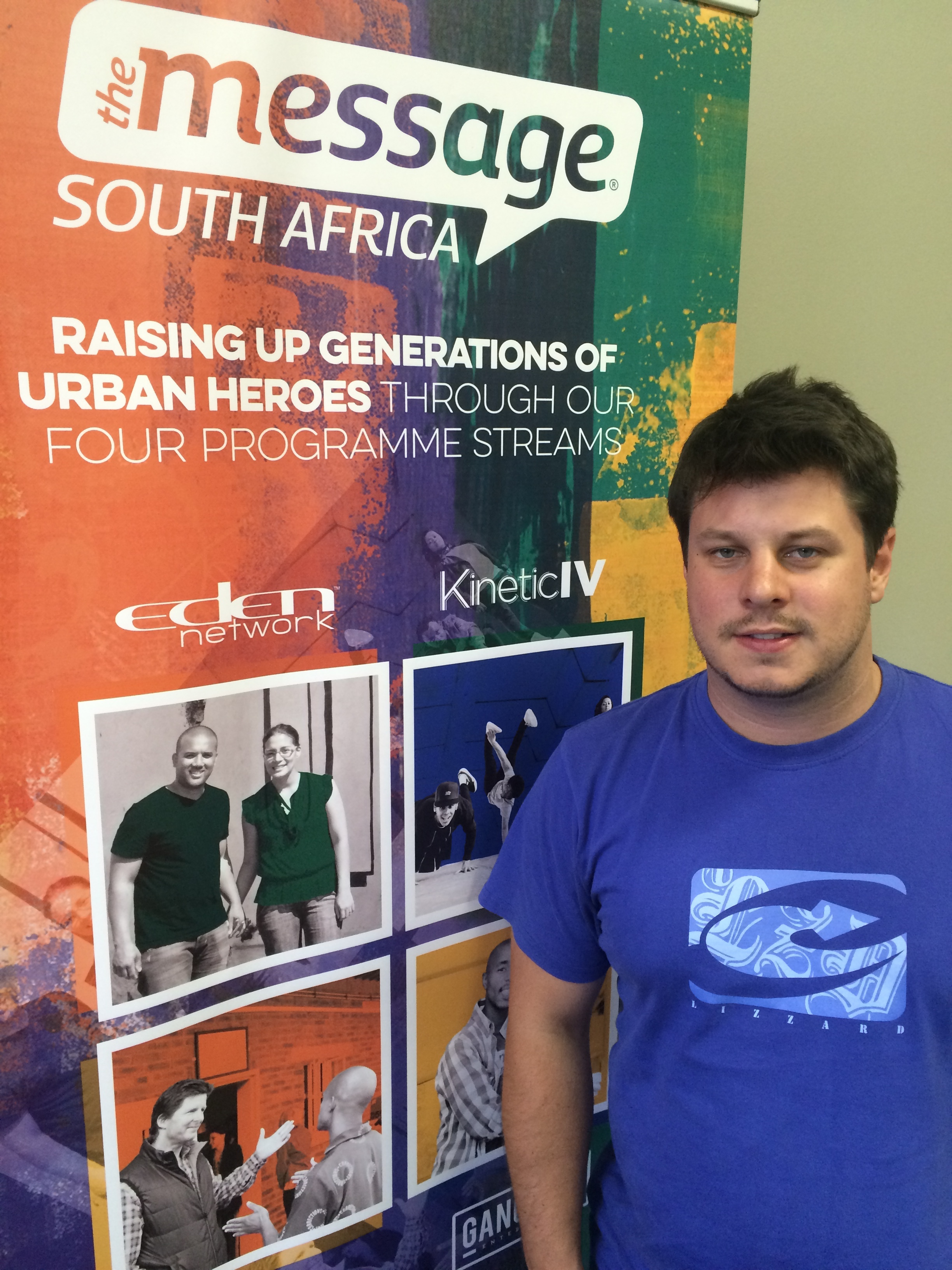 I have two amazing parents and a younger brother, and grew up in the northern suburbs, Parow. As a family we love camping and have been camping for as long as I can remember. I have always been very technically minded and love gadgets and building just about anything. I grew up in the NG church, and gained a lot of bible knowledge. I love spending my free time playing rugby or squash but mostly spending time in nature doing something that gets my adrenaline going!
The four values of The Message Trust are passion, church, innovation & community.
2.

Tell us what you're passionate about?
To be a Warrior for God. To grow His kingdom.
I have a massive heart for people and have always found people interesting, especially the uniqueness of every individual. I love working with people reaching out to others whether it's in a group or as an individual. I have a strong background in teambuilding and love to watch the dynamics of a group. Teambuilding is my absolute passion, as I love games and seeing people have fun, learn and overcome obstacles.
I have a great passion for evangelism and outreach, as well as shepherding and developing others to be able to carry over what they have learned. I am involved in a number of ministries such as Straatwerk, Prison Ministry and CBMC (Christian Business Man Connection).
The Lord has laid on my heart to purse unity in South Africa through encouraging one another and mentorship. As the future of South Africa, our youth have a critical role to play in uniting our culturally diverse country. I believe that the diversity of our culture holds the potential of South Africa as our greatest asset. We have a lot of groups doing their own thing but we need to unite in God's presence and fight the good fight together.
3.

Tell us a bit about your church?
Urban Edge in Durbanville is my church community and spiritual anchor. The church has such a powerful vision which is "Connecting people to people and people to God".
I am part of a Connect Group, and serve often. From the first moment, I have felt absolutely welcome at this church.
4.

You mentioned you are from Panorama what does community mean to you?
I have moved around a lot which means that I have developed a broad perspective for community. My church is in Durbanville, Straatwerk is on the streets of Cape Town, CBMC is in Bellville and Kraaifontein, therefore community means "unity" for "the broad circles" I live in, to come together, to develop and thrive for the Kingdom of God. South Africa is my "Community" and I believe in the unity of this amazing country.
.

The Message loves developing new innovative ways to reach youth – what was it that specifically attracted you to join The Message team?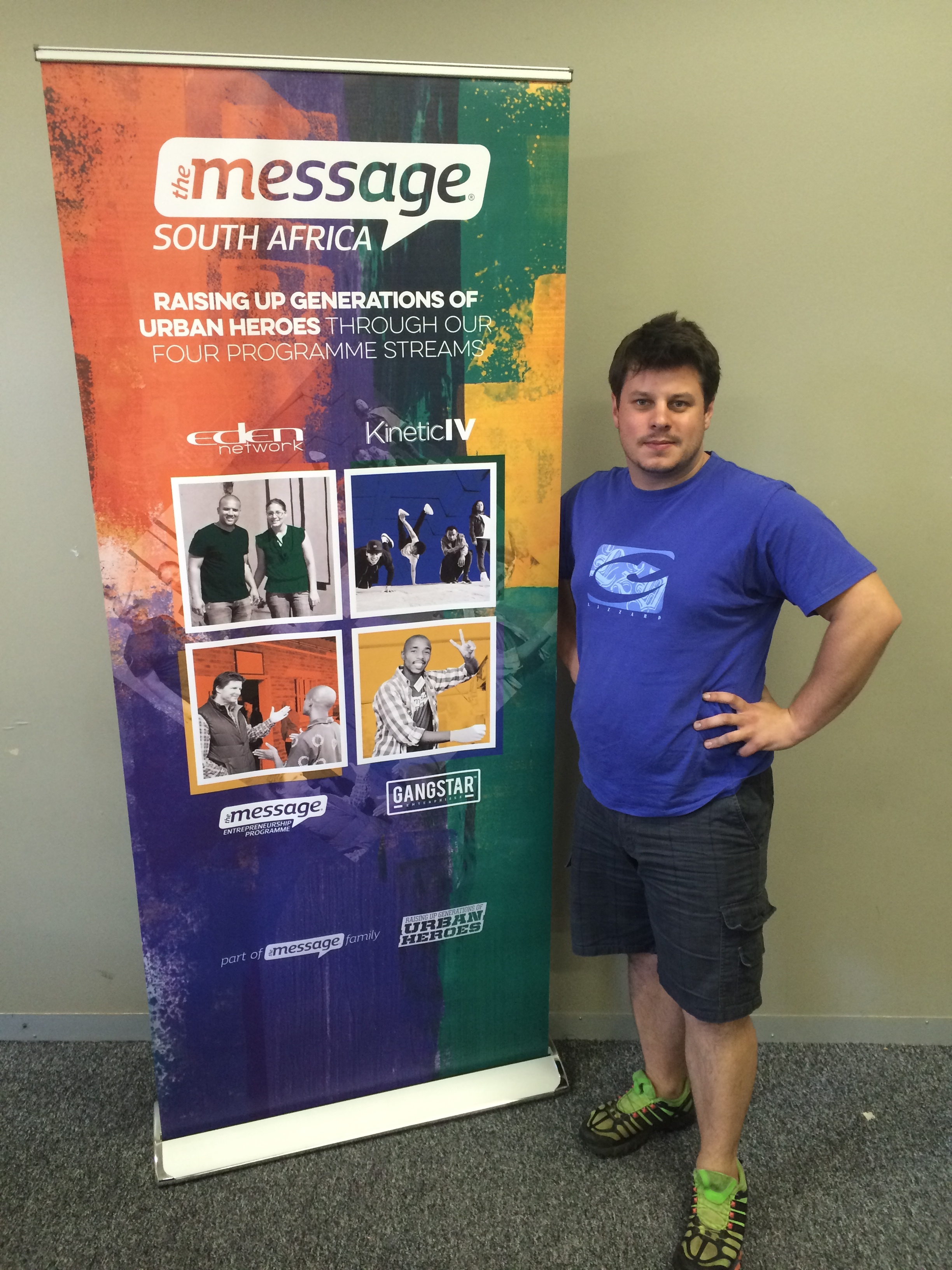 Prison ministry; I wasn't aware that The Message was working in the same prison that I was volunteering at, as a facilitator for the Alpha Coarse (at Drakenstein).
What stood out for me the most was Christ Centered Enterprise, incorporated with the goal of 'Raising up generations of Urban Heroes' by the joint effort of the 4 streams in The Message.
As an evangelist you often get faced with the question: "What happens when the Individual in prison gets saved? What type of support does someone that lives in poverty have that can help them grow to become the man that God wants him to be, rather than 'back-sliding' due to surrounding peoples influences and circumstances?"
A question that I asked myself so many times has been "What can I do to make a difference? What can I do to create more support for someone that comes out of prison or lives on the streets?"
One thing led to another, ("a chain of unexplainable coincidences") and the Lord led me to The Message Trust, while I was doing prison ministry with Alpha.
6.

If you could say one thing to the youth of South Africa what would you say?
You are the Future! No one can make a difference alone, but with God as our center and guide, together – "we can do this"!