Our Community Hubs provide a safe environment for young people to engage in after school programmes including life skills, discipleship, educational support and fun-based youth activities.
The Community Hubs in Nyanga and Parkwood seek to empower youth to share their faith in their daily lives – all in partnership with the local church and community. We also facilitate opportunities at schools and through community outreaches, for young people to serve their community alongside our team.
Our heart is to give young people positive role models, to share how loved and valued they are by Jesus and to equip them to succeed. We'd love to launch a new Community Hub each year to do this, so watch this space for more coming soon!
How Do We Do It?
---
Evangelism
---
We work alongside our Message Mission teams to coordinate community outreach, schools and evangelistic events for young people.
Discipleship
---
We run weekly discipleship groups for boys and girls focusing on leadership, character development and living the kingdom life of Jesus.
Education
---
We offer after-school academic assistance and facilitate numeracy, literacy and computer skills. We also offer homework assistance and support.
Creative Arts
---
Genetik Sessions is a performing arts programme that gives youth the opportunity to cultivate and express creative gifts and talents.

Sports
---
Having partnered with Ubuntu Football Academy, our team offers coaching and regular sports events.
Nyanga Hub
---
Launched in 2019, or Nyanga hub is all about supporting, resourcing and encouraging young people through science and maths tutoring to give them the knowledge and skills they need to succeed, as well as through our soccer teams. The soccer teams are a great way to engage and build relationships with the young people and from there, disciple them and share more about how love they are by Jesus.
The Message Trust has made a lasting impact in Nyanga by partnering with us. The community focus shows The Message's commitment to incarnational mission

Pastor Kwanele – New Crossroads Church, Nyanga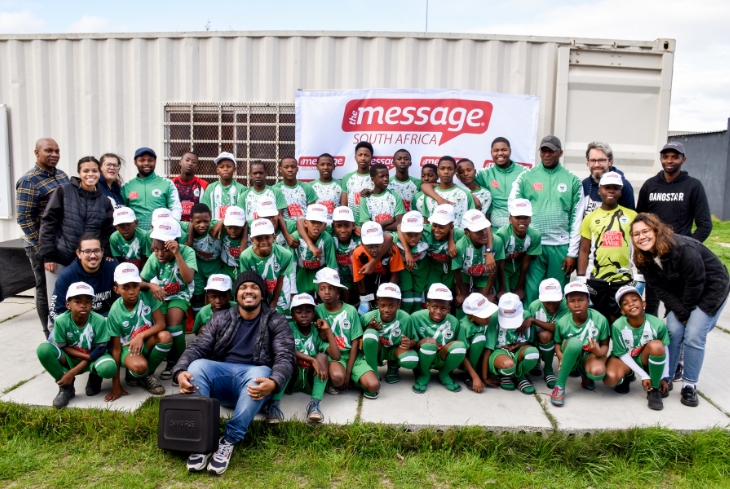 Parkwood Hub
---
Launched in 2020, our Parkwood Hub partners with Reconciliation Ministries to reach young people through Genetik Sessions – our creative arts programme – and through a cycling club.
The Message Trust has not only become a message of hope to the youth of Parkwood, but has also taught me that together we can do so much more in the vineyard of God.

Ps. Eddie Hendricks – Reconciliation Ministries, Parkwood
Tell Me More
---