Last week Thursday we launched the Message Entrepreneurship Programme in Drakenstein Youth Centre in partnership with Correctional Services. It was a wonderful event and we give God all the praise for what he is doing in the lives of our students. Read below the media launch release by Warren Lodge of LIFE Brand.
---
Report from the launch of the Message Entrepreneurship Program (MEP) on Thursday the 7th of May at Drakenstein Correctional Centre.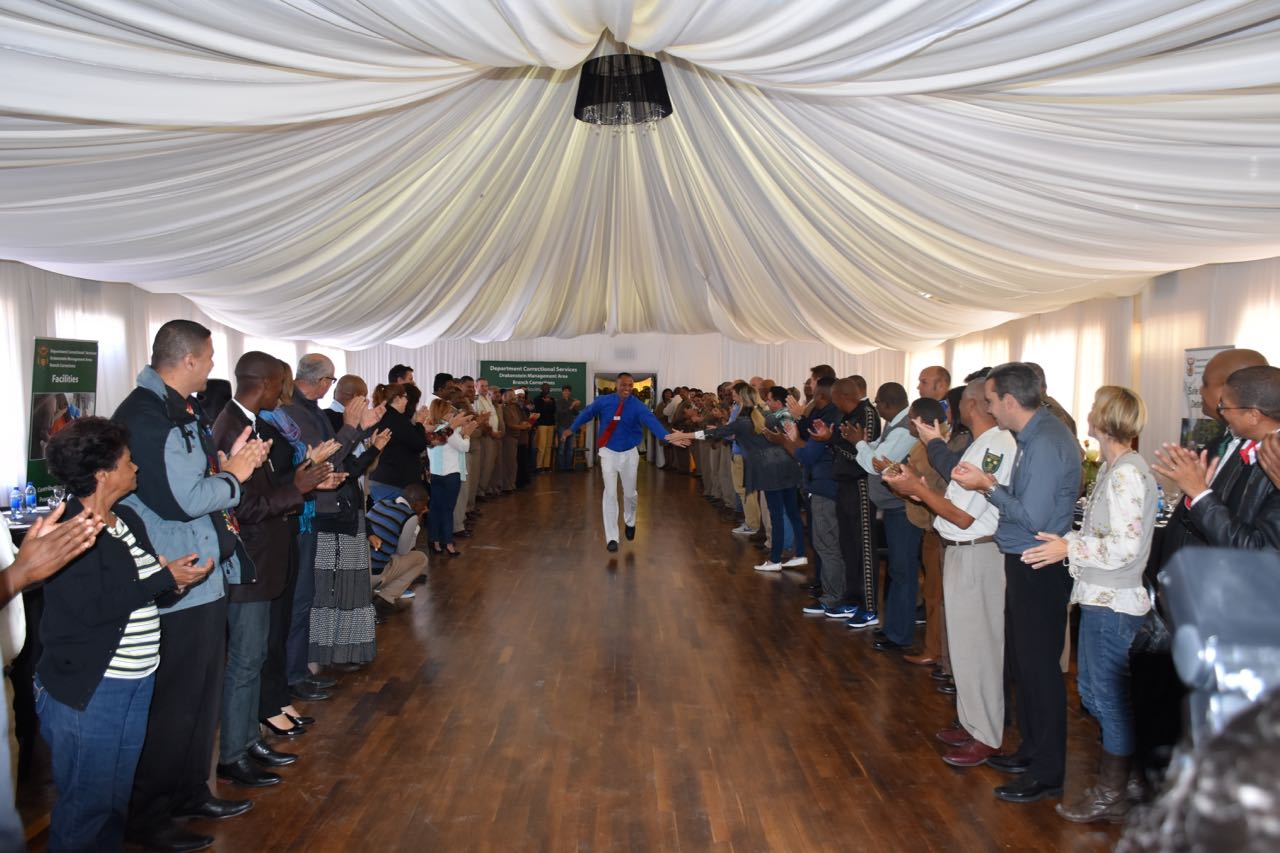 The 7th of May can be marked as a highly significant date on the calendar of 27 young men who are currently going through a 6 month (college equivalent) intensive business and entrepreneurship training program as part of their prison pre-release program. The event was attended by an array of prison officials from various branches, as well as service providers, faith based organizations, non-profits and the young inmates themselves who have taken a stand to embrace a life of hope, commitment and growth. Proceedings started with a minute of silence and dedication to eight prison officials who died this week in a horrific car accident.
A recent report done by News 24 states that approximately 23 000 inmates are released on a monthly basis, but then another 25 000 enter the prison system at the same rate. A total of 64 959 offenders are not currently incarcerated, with 48 323 being out on parole. In another report by Health 24, research shows that the daily price tag of accommodating a prisoner is R329.20. This amounts to just under R10 000 a month, or more than R118 500 a year which equates to more than R2.9m for a 25 year sentence. For 2015 South Africa is projected to have the 8th highest unemployment rate in the world, according to a new report issued by the International Labour Organisation (ILO). Business Day Live recently reported that using the ILO's categorisation of youths as people between the ages of 15 and 24, South Africa's youth unemployment rate is 52%. This is putting massive financial strain on our country from a socio-economic perspective, but a few people are stepping up to the plate and taking a stance. Among these are the men and women from The Message Trust and they have dedicated their lives to work in prisons and tough neighbourhoods.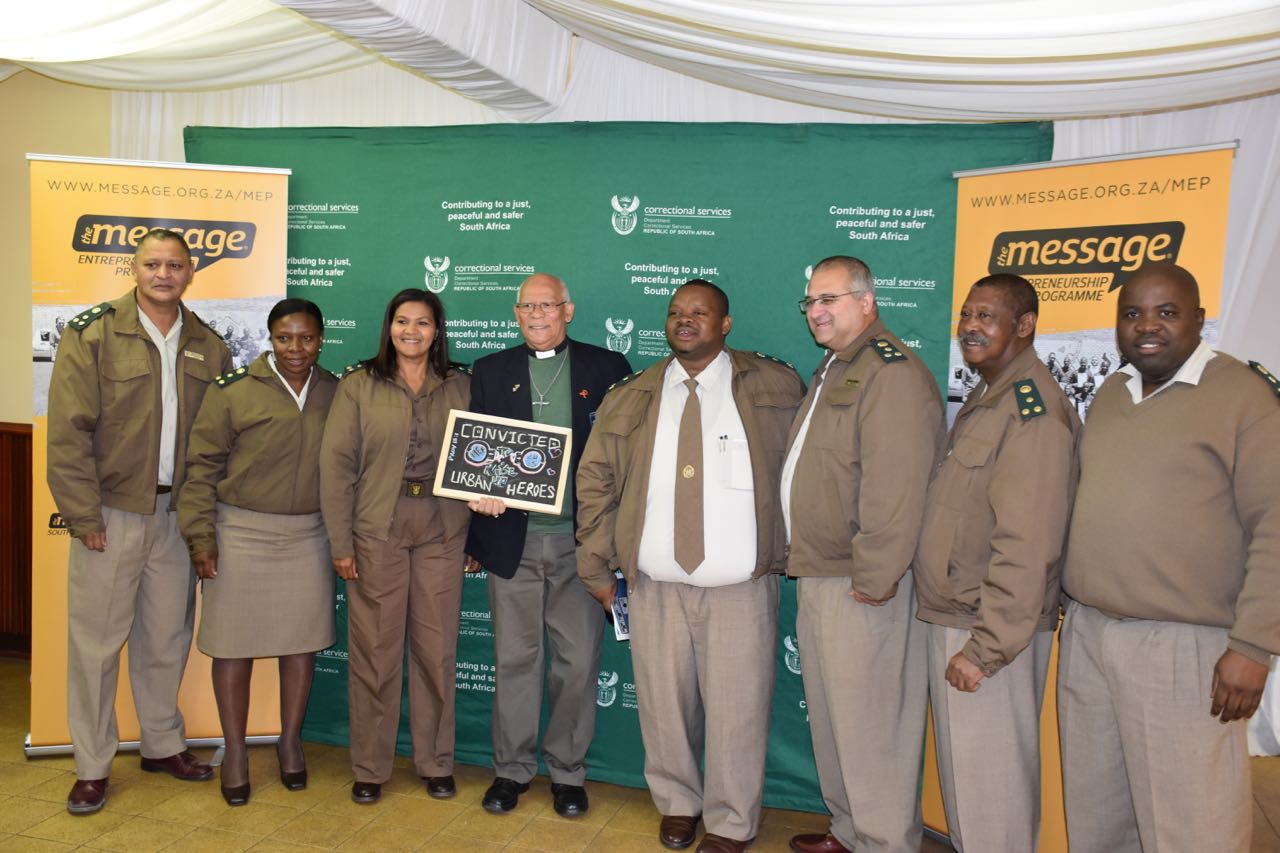 Also, these alarming stats are not deterring those in charge of the award winning Drakenstein Correctional Services in the Western Cape who are defying the odds, challenges and social stigmas facing people with criminal records. Their pre-release mandate is based on creating things like a new value system; a positive societal association; up-skilling and mentoring prisoners so that they can function effectively and begin to contribute in society without the risk of reoffending. They address offending behaviour and create custom interventions to help each offender to firstly overcome their own challenges and then create a new beginning.
---
Introducing Message Entrepreneurship Programme (MEP)
A corporate lawyer from California, Jennifer Belcher (MEP Director) stated that we all need to be released of the most dangerous prisons in the world, "the prison of the mind". We all have a role to play in raising up prisoners to become urban heroes so that we can send them back to their communities as beacons of hope. Jennifer has seen 27 people move as cell mates to class mates to mock business partners to a brotherhood that will walk out of prison and impact their communities. She quoted Gregory Boyle from Homeboy – the most successful prison reintegration program in the USA who said: "Nothing stops a bullet like a job". She believes that if we can solve problems in South Africa, we can use this as a model to solve problems anywhere in the world. Similarly, the systems and approaches used by Drakenstein Prison and The Message Trust can also be adopted in prisons all over South Africa, and the world for that matter.
The manager of the Message Trust enterprise development unit that aims to employ ex-offenders, Jessica Longe, described the first business to the audience. It currently employs two ex-offenders, Jade and Siphe and it is called the Soft Machine, a redeemed gourmet ice-cream truck, and has almost been fully booked during this last summer at various events and weddings and even the Design Indaba.
The event unfolded with a striking delivery on inspiring fresh hope, creating a new vision and making opportunities from Lloyd Williams, project manager of an enterprise development NPO based in Khayelitsha, called Learn to Earn. Finally a young prisoner once again gave goose bumps to the audience when he spoke about the exciting futures that now await him and his fellow classmates when they leave the detention centre in a few months time.
The event was filled with laughs, inspiring moments, profound statements and performances by the inmates that are undertaking the MEP program. The keynote speaker at the event, Mr. Nczamazana, who is Head of the Medium B Youth Correctional Centre at Drakenstein spoke about every citizen having a role to play and the fact that we all need to strive to leave a legacy of helping others.
The future of these young inmates looks very promising and The Message Trust, Drakenstein Prison and follower service partners are extremely enthusiastic about the Message Entrepreneurship Programme growing from strength to strength.
Written by Warren Lodge
LIFE Brand and Message Trust PR representative
Further Media Reports
---
Help us raise up a generation of Urban Heroes THROUGH ENTREPRENUERSHIP
get involved & visit our MEP webpage to find out how you can help!
---