ON THE 25TH OF FEBRUARY 2016 THE MESSAGE TRUST HELD IT'S THIRD ANNUAL VISION NIGHT. THE MESSAGE TRUST VISION NIGHT IS A YEARLY EVENT THAT SHARES STORIES AND UPDATES OF WHAT GOD IS DOING THROUGH THE ORGANISATION. ONE OF THE BIGGEST JOYS OF THIS YEAR'S EVENT WAS HAVING 21 STUDENTS FROM OUR MEP CLASS COME TO THE VISION NIGHT. OUR STUDENTS PERFORMED TWO SONGS WHICH DEEPLY MOVED OUR GUESTS ON THE EVENING. ANOTHER HIGHLIGHT WAS HAVING ONE OF OUR STUDENTS CLINTON LE ROE AS THE MASTER OF CEREMONIES (MC) FOR THE EVENT.
HERE IS HIS EXPERIENCE OF VISION NIGHT IN HIS OWN WORDS:
"The man who fails, to fail, to failure, stands up and embarks on the journey of a thousand miles. On vision night I felt as if I reached my destination and stepped into my future. It was all playing out before my very eyes, many people listening to me, the guy with the mic. Never before have I been received by such a great audience as the guests who were at vision night. It was my first time to play the role of MC to such a large group of people. All I could see on the night was a dream coming true and despite my current status (of being a prisoner) I was not shaken or moved by fear, I accepted the challenge and faced every listener. It was an opportunity to show case the potential and gift God has placed in me.
I was humbled to be placed on such a platform receiving the respect of so many big names and people from abroad. One of my biggest highlights was being able to share the stage with Angus Buchan and knowing that my mentors at The Message Trust had my back.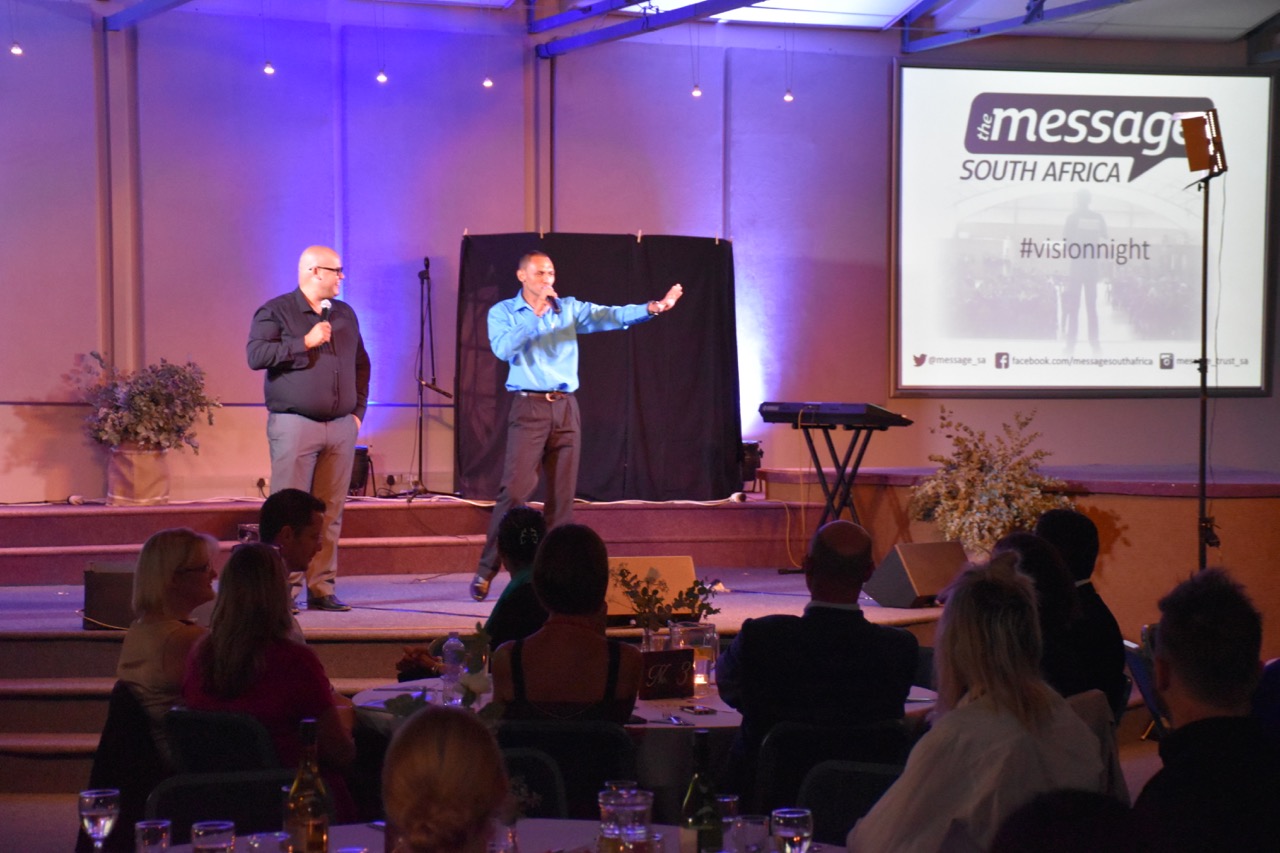 The Message Trust has become my window of opportunity and given me a second chance to rectify my wrongs. I am still overwhelmed by the magnitude of Vision Night and what God allows me to step into, it's shows his amazing favour upon my life.
The future leaders and our MEP class performed fantastically on the night and were a massive source of strength to me, they are my brothers in arms".
Written by Clinton Le Roe – MEP Student and MC on our Message Trust Vision Night.